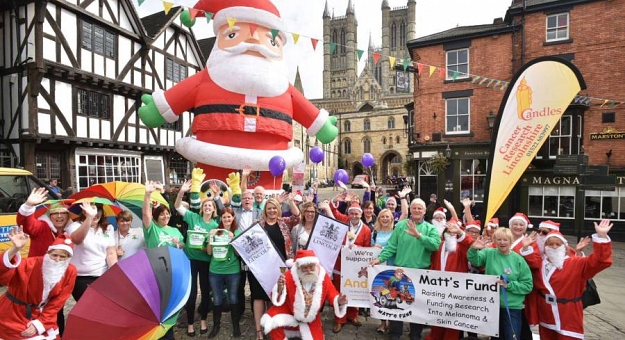 Thousands of people dressed as Santa will take to the streets on 17 December, for the annual University of Lincoln Santa Fun Run, organized by the Rotary Club of Lincoln Colonia.
Supporters of local charities will be navigating a 3.5 km course around the historic Bailgate area of the city, to raise money and awareness for their causes.
One charity taking part is the Lincolnshire Employment Accommodation Project (LEAP), which provides housing and support to vulnerable young people in the county.
"Homelessness is a massive issue in Lincolnshire and is not talked about nearly enough," said LEAP fundraising officer Michael Sellers.
Recent figures from housing charity Shelter suggest 80 people are currently homeless in Lincoln, with more than 6,000 sleeping rough throughout the East Midlands. That doesn't include those who narrowly avoided the situation or were helped off the streets thanks to charities.
"For young people in particular, it is a massive issue as they are extremely vulnerable not only to negative influences such as substance abuse, but also to the types of people that may exploit them or harm them," said Michael.
Christmas is a particularly tough time due to the often sub-zero weather conditions and added anguish of being without friends and family. "The level of homeless youth also generally increases during this period," he said.
"Christmas is a time of giving, and we rely a lot on this notion."
The run begins at 11:30 am at Union Road and finishes at Castle Square after two laps. The public can donate online or at the event.
"Whilst national organisations do an incredible job and raise a lot of awareness and support for their specific causes, smaller charities sometimes do not get as big a slice of the pie as they need. Being a relatively unknown charity is very difficult for LEAP, whilst we work with a lot of organisations we do not have to resources that larger charities do. By giving locally, you're directly benefitting the local area to some degree." – LEAP fundraising officer Michael Sellers.