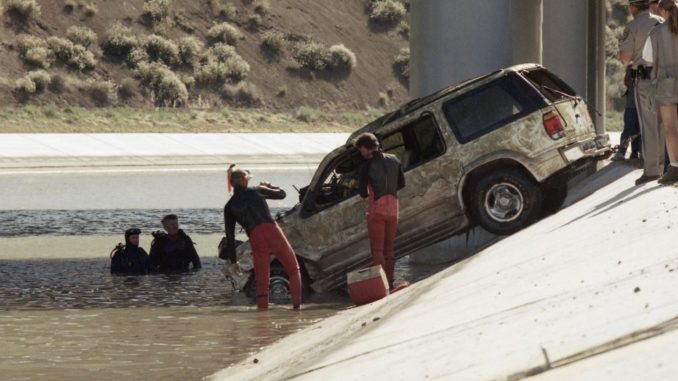 The writer with no hands sounds like a particularly macabre joke. In a way, it is. But it's also the title of a documentary film, directed by William Westaway, and a book by Matthew Alford.
Both tell the real life story of Hollywood screenwriter Gary DeVore, who died in very mysterious circumstances in 1997. They both also tell the story of how Alford, an academic, let Devore slowly take over his life as Alford's more conventional career hit a rocky patch.
The film, first released in 2014, has received a director's cut re-release on Amazon and iTunes on the 27th June. In essence, it sees Westaway follow Alford to Hollywood, as Alford turns amateur detective to work out how and why Devore died. Devore, a successful writer, was apparently working on a screenplay that looked at CIA involvement in Latin America. He vanished when driving home one night, and when discovered dead over a year later, he was submerged inside his car under a bridge; strangest of all, he was apparently missing both his hands.
Did Devore work for the CIA? Did they assassinate him? Did he just crash his car? Did he fake his own death? And, will Matthew work out the answers to any of those questions?
To give away any of those answers would spoil the fun. And the documentary certainly is that. Reminiscent of a Nick Broomfield film or a Louis Theroux documentary, some of the individuals Alford meets, interrogates or just bumps into have to be seen to be believed. It also has an ending that..well…just watch it. The uneasy dynamic between Westaway and Alford is only hinted at as well, but it helps add an extra layer of paranoia for the viewer. Are we being manipulated? And, by whom?
The film, running at under a feature length, really only wets the appetite for the book, which delves much deeper into the mystery. It also allows Alford, a sometime stand up comedian and published in the Guardian, to really highlight the absurdity of Devore's death and his own desire to solve the mystery. His writing is often funny, occasionally poignant and always reminiscent of the very best of paranoia soaked fiction. It also, somewhat surprisingly, speaks to anyone who has ever felt like they don't quite fit in with the status quo- to those with a desire to entertain, a desire to tell a story, or a desire to work out the impossible mystery.
Both the film and the book feed into a wider body of academic research undertaken by Alford, as well as individuals such as Tom Secker, regarding government agency infiltration of the type of big budget Hollywood blockbuster on at your local multiplex. So, dare you go down the rabbit hole? The punch line isn't that funny, but at least it's eye opening.