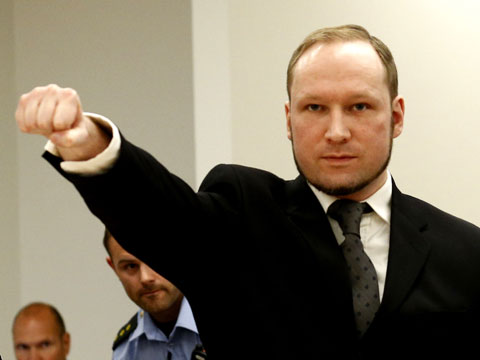 This July will mark the second anniversary of Anders Behring Breivik's terrorist attack in Norway, when he killed 77 people in a bombing in central Oslo, and a mass shooting on the island of Utøya. Last August Breivik was deemed sane and found guilty by the Oslo District Court. We was sentenced to 21 years of preventive detention, which can be extended for as long as he is deemed a danger to society.
Whilst some believe that Breivik's crimes deserved the ultimate punishment– and are unlikely to have sympathy with his recent complaints about a lack of moisturiser and butter in prison [1] – there is in general a feeling that justice has been done. The man responsible for the horrors in Norway poses no further danger to society, and his imprisonment provides a certain level of closure to the events of July 22nd 2011.
With Breivik safely detained, press coverage of the case has naturally dwindled. Unless one had been specifically looking for updates, it would have been easy to miss a story from earlier this month concerning the severe criticism levelled at Norwegian authorities for their multiple failings in preventing and curtailing Breivik's attacks [2]. A motion passed in parliament declared it…
"…censurable that the authorities before and during the terrorist attacks of July 22, 2011 didn't implement more security measures and interventions that could have impeded the terrorist attacks and protected people at the government's headquarters and at Utøya"
A catalogue of mistakes
Such condemnation follows earlier damning criticism of the Norwegian authorities. Last August an independent commission also found that Breivik could have been stopped much sooner. The Gjørv Report found that if previously approved security measures had been put into place, the road outside parliament in Oslo would not have been open and so Breivik would not have been able to detonate his car bomb outside of it [3].
The commission also found that had there not been a series of errors on the part of the Norwegian police, Breivik's gun rampage on Utøya could have been stopped much earlier. It took police a long time – 79 minutes – to apprehend him. Their only helicopter was out of use because its crew were on holiday, which meant police had to travel to Utøya by road. Upon arrival an anti-terror team attempted to sail a dinghy from the mainland to the island, but it became overloaded and had to be abandoned. Private boats were then commandeered, but took a route that was three kilometres longer than the shortest crossing point to the island.
Whilst on the island Breivik had reportedly tried to call police 10 times, but a flawed communications system meant he only succeeded in getting through twice. After stating his name and declaring that he wanted to surrender, Breivik stopped shooting and waited to be apprehended. When police did not arrive at the scene or even return his calls, Breivik decided to continue shooting – during which time he murdered many more people.
The Gjørv Report found that Breivik could not only have been stopped much earlier on the actual day of his attack, but even well before it: the attacks "could have been prevented".
Norway's intelligence service the PST (the Politiets Sikkerhetstjeneste or Police Security Service) failed to investigate Breivik even though he had appeared on their radar months before his attacks. He had been placed on an intelligence watch list in March 2011, after being flagged up by Interpol under a US-led anti-terror campaign called "Operation Global Shield" [4], for illegally buying chemicals online from a retailer in Poland. As reported in April 2012, the PST had…
"…failed to follow up on a tip about…Breivik's acquisition of materials that could be used to produce explosives. PST also came under criticism for failing to pay enough attention to Norway's right-wing extremist groups, and failing to pick up any suspicions about Breivik."[5]
Defence analyst Anthony Tucker-Jones describes the failings of the PST, and those of the Norwegian Intelligence Service (the NIS, or Etterretningstjenesten) and the counter-terrorist unit Beredskaptroppen, as a "major intelligence catastrophe" [6]. He also observes that…
"The intelligence failure in stopping Breivik's terror attacks was equal to that of the 9/11 attacks in the United States and the 7/7 bombings in the UK."
9/11, 7/7, 22/7: a pattern of intelligence failures
Tucker-Jones correctly points out that three of the biggest terror attacks in the 21st century Western world were only successful due to "intelligence failures". Whilst Tucker-Jones' comparison was apparently met with "surprise and derision in some quarters", it is a matter of fact that the intelligence services had key intelligence on the perpetrators prior to their terror attacks.
In the case of the official 9/11 story, "systemic failures throughout the intelligence system" allowed hijackers to commandeer four commercial airliners and successfully crash three of them into their targets, killing nearly 3000 people [7]. A military intelligence unit had actually identified lead hijacker Mohammed Atta, and three other hijackers, a year before the attacks [8]. Pentagon officials apparently prevented them from sharing the information with the FBI, and…
"According to Louis Freeh, former FBI director, if this information had been properly shared, the events of 9/11 would have easily been prevented."
According to the official story of the London Bombings, failures on the part of the British security service MI5 allowed four young men to detonate backpack bombs on the London transport network on July 7th 2005, killing 52. Two of the bombers had been under MI5 surveillance for 18 months, after being linked to the ringleader of another terror plot known as Operation CREVICE [9].
In all three cases – 9/11, 7/7, and 7/22 – the intelligence services abjectly failed; indeed, the attacks could hardly have been any more 'successful' in achieving their terrible objectives. There has been a remarkable lack of accountability for these so called failures.
Little accountability for failures
No-one at any level of the US government has been held accountable for the countless failures [10] leading up to and on 9/11 – and we find a similar lack of accountability from the security services. Head of intelligence at the time of 9/11, George Tenet, stayed in his job and was later awarded the Medal of Freedom, the US's highest honour. Mike McConnell, head of the National Security Agency prior to 9/11, was later brought out of retirement and appointed Director of National Intelligence.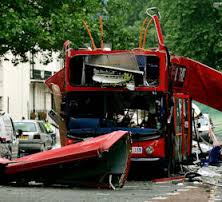 During the 2011 inquest into the 7/7 London bombings only one MI5 officer was required to give evidence at the hearing, and even then he did so anonymously after an application by Home Secretary Theresa May. The senior MI5 officer simply denied that there had been major intelligence failings, an assertion with which the coroner agreed – despite family members of the bomb victims being highly critical of MI5 and dissatisfied with the verdict [11]. The father of one of those killed on 7/7, Graham Foulkes, said that the inquest…
"…causes a lot more questions to be asked than it answers…It really must compel Theresa May to review the whole operation of the security services in the UK, not just MI5."
There has been a similar lack of accountability in Norway for the devastating success of Breivik's attacks. Last August saw the resignation of Norway's police chief, but the PST – the agency that failed to act on intelligence about Breivik's purchase of chemicals – did not actually report to the National Police Directorate, but rather the Minister of Justice and Police [12]. Whilst Norway's Prime Minister Jens Stoltenberg accepted responsibility for mistakes that had been made in response to the attacks [13], neither he nor any of his ministers have resigned and there has not been a public inquiry into the PST.
Failures by Western intelligence agencies in stopping massive terror attacks are typically obfuscated, shielding those responsible from accountability. In the case of 7/7, for example, the intelligence services disguised their errors by fooling supervisory bodies with the "selective feeding of information or even by the use of downright deceptive or misleading material," according to Labour MP Michael Meacher. Such obfuscation allows the intelligence services' activities to continue unimpeded, beyond the scrutiny of the public and our supposed representatives in government. When under pressure to be more transparent the intelligence services can avoid investigation by citing a supposed threat to national security – a tactic former MI5 officer Annie Machon describes as "the ultimate get-out-of-jail-free card" [14].
The security-industrial complex reaps the profits
In the aftermath of a successful terror attack the focus typically shifts away from the question of incompetence or foreknowledge on the part of the intelligence services. Instead, government deals with the problem by passing legislation that further restricts citizens' civil liberties, claiming such action is necessary in the name of "security". The work of the intelligence services remains shrouded in mystery, whilst politicians' grave warnings of future attacks [15] spread fear amongst the population and justifies the passing of ever more draconian security policies.
The state expands its power and consolidates control over its citizens whilst the security-industrial complex reaps massive financial reward [16], the "revolving door" between politics and big business ensuring the corrupt process runs smoothly. Citizens end up paying for the intelligence services' mistakes – both figuratively and literally, with enforced income taxation funding the security state and advancing our own enslavement.
Of course, many suspect that "intelligence failures" are but a smokescreen for an even darker and more alarming reality, which is that rogue elements within the governmental and intelligence power structure are actually complicit in enabling and planning terror attacks, to advance their own agendas [17].
Given the proven complicity of the state and intelligence apparatus in horrendous acts of violence against its own citizens, such as Operation Gladio, it would be unwise to dismiss such suspicion as mere "conspiracy theory".
____________________________________________________________
Brit Dee is a freelance political commentator from the UK, with an interest in the deeper causes of terrorism, and the danger of consolidation of power through globalization. He is now a regular contributor to WideShut.co.uk