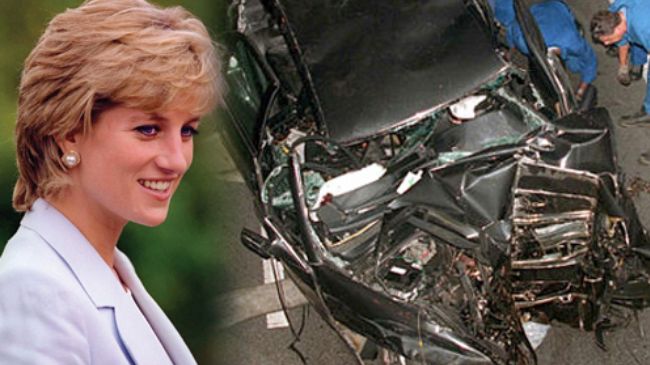 French authorities may seek an international warrant to question two former police chiefs, who withheld a prophetic note in which Princess Diana seemingly predicted her assassination by car crash.[1] Something she stated on more than one occasion.
Former Scotland Yard chief Lord Condon and former Assistant Commissioner of Specialist Operations Sir David Veness, have been ordered to attend an interview in Paris to address why the note was under lock and key for 3 years following Diana's death. If they fail to attend they could be arrested.
The note in question remained hidden even when Lord Condon's successor Lord Stevens took over as Metropolitan Police Commissioner, suggesting the orders may have came from a higher authority.
The note was handed to the MET by Diana's Lawyer Lord Mishcon shortly after the 1997 Paris tunnel crash, which also claimed the lives of Diana's boyfriend Dodi Fayed and driver Henri Paul. It drew on a meeting between Diana and the law firm where she claimed her life was in danger. The record of the meeting in the form of a hand-written note says efforts would be made to get rid of her "…be it by some accident in her car such as pre-prepared brake failure or whatever."
Lord Condon and Sir Veness have publicly claimed that they made the decision not to release the document unless there was a suggestion that the crash was not an accident [2], but the French Judge Gerard Caddeo may see this as withholding the very evidence that does suggest it wasn't an accident. Under French law, "removing or concealing" evidence, which could "facilitate the discovery of a crime", is punishable by three to five years in jail or a fine.
Coinciding with the release of controversial Keith Allen documentary "Unlawful Killing" that suggests Diana was assassinated, this re-ignition of the case may open a whole new can of worms, right when the British establishment is being rocked by the phone hacking scandal.
It should be noted that this isn't the only document where Diana's death appears to be foreshadowed. As reported by The Telegraph another document was written way back in 1993!
A handwritten letter in which Diana, Princess of Wales claimed that the Prince of Wales was plotting to kill her so he could marry Tiggy Legge-Bourke, the former nanny to Princes William and Harry, has been shown at the inquest into her death.
That letter reads:
"This particular phase in my life is the most dangerous – my husband is planning 'an accident' in my car, brake failure and serious head injury in order to make the path clear for him to marry Tiggy. Camilla is nothing but a decoy, so we are all being used by the man in every sense of the word."
Even the most non-conspiratorial minded person has to scratch their head with intrigue that Diana feared for her death by orchestrated car crash as early as 1993, and then wound up dead in a car crash, while one of the notes that predicted this was subsequently hidden by police officers honored by the Queen, whose oh so Royal family would be prime suspects in an assassination of the Princess.
So far the official story is that the Mercedes-Benz carrying the victims collided with the 13th pillar of the Pont de l'Alma tunnel, because driver Henri-Paul was intoxicated with alcohol, anti-depressants and possibly carbon monoxide, causing him to lose control of the wheel. However video surveillance at the hotel that evening show an upright Paul who appears to be in full control of his faculties. Moments before entering the vehicle he can be seen quite happily tying his shoe laces with no obvious impairment.
The media frenzy that called Henri "drunk as a pig" [3], was well underway before samples had even been presented [4], suggesting the narrative was to some degree pre-arranged or grossly speculative. Independent forensic pathologists have reviewed the toxicology reports and concluded that the blood samples were not stored at the correct temperatures, meaning higher levels of alcohol would have been recorded due to decomposition of the blood.[5] Furthermore it was claimed that Henri-Paul had over 20% carbon monoxide blood content, which would cause any regular person severe head-aches and a lack of coordination, which again is refuted by the CCTV evidence of Paul in the hotel lobby.
No acceptable explanation has been given for the presence of Carbon Monoxide. Initial reports claim it came from the vehicles airbags, but this was later ruled out. It seems absurd that a life saving system could release a toxic gas. It quite logically has been suggested that this intoxication came post-crash from exhaust fumes, but Henri was supposed to have died on impact rendering him unable to breath in any of the fumes. Smoking was also blamed, but Toxicologist Professor Robert Forrest ultimately had to concede that "It's either conspiracy or cock-up."[6] "…he could not find any logical explanation for the findings."
In other words the blood is just not a reliable measure of his intoxication or anything else for that matter.
A Conspiracy?
A thorough investigation needs to follow all leads and motives. The Henri-Paul claim is flimsy, so it would be worth following up on Diana's cries for help, specifically the idea that she was to be murdered by "pre-prepared brake failure". Such a technique for carrying out assassinations does purportedly exist within the secret services of the world. According to author Jon King it's called the "Boston Breaks" method and involves installing hardware within a vehicle, which allows the assassination team to jam the steering column and braking functions remotely, causing the car to hurtle out of control, unable to break or steer. This is dealt with in his book Diana: The Evidence
Also in the book The Feathermen by former SAS demolition expert and famous British explorer Sir Ranulph Fiennes, he recounts the alleged assassination of Major Michael Marman via this very method.
The Clinic had been watching Major Michael Marman, and had determined that he frequently drove along the A303 arterial road, in Wiltshire, south-west England, on personal business. While doing this, he was habitually alone, and the fact that his vehicle was a relatively flimsy Citroen 2CV meant that a crash was the perfect method to kill him. Nevertheless, the Clinic dared not tamper with Marman's car or deploy a driver to ram him off the road, since their contractual obligation to make the death appear accidental would almost certainly come unstuck under the slightest police investigation. They therefore decided to use a proxy: an apparently random driver who would unknowingly become the Clinic's untraceable instrument of execution, by colliding with Marman.

Through relatively simple research, they discovered a businessman whose offices were in Plymouth and London, and who regularly drove between the two along the A303 road. This was Air Marshal (ret'd) Sir Peter Horsley, former equerry to the Duke of Edinburgh and to the Queen, and ex-Commander in Chief of Britain's atomic strike force, who now worked for an engineering firm, ML Holdings. Study and surveillance showed that Sir Peter was due to drive from London to Plymouth for a board meeting on 11 November 1986, at a time which would mean he would pass Major Marman in the opposite direction along the length of the A303. The Clinic then entered Horsely's garage during the night of 10-11 November, and, over an eight-hour period, fitted a 'parasite' braking system in the cavities of his BMW, in such a way that it couldn't be seen on immediate inspection. This radio-controlled system was powered by a scuba-diving cylinder of compressed air, which would allow each of the car's brakes to be applied separately, without the control of the driver.

The next day, having practised their technique for weeks with stock cars and models, two of the Clinic members shadowed Horsely, while keeping in radio communication with a second Clinic team, shadowing Marman. As Marman's 2CV and Horsely's BMW approached each other along the A303, the parasite braking system was applied, and Horsely lost control of his vehicle, which was steered across the central reservation and into Marman's path. the ensuing collision killed Marman outright, and severely injured Horsely. Horsely was initially under suspicion of reckless driving, but fortunately had a witness who had been driving behind him, who testified that he had seen a puff of smoke emerge from the rear of Horsely's car immediately before he lost control: at inquest, the local coroner said the accident would remain unexplained. The more definitely so, since the Clinic's parasite brake-system had been secretly removed after the accident while the BMW was impounded at the police garage facility. The Feather Men, who failed to prevent this assassination, ultimately learned exactly how this scenario unfolded when they captured and interrogated the Clinic's chief assassin.
In his autobiography, Sounds From Another Room, Horsley says that he was accelerating to about 60 miles an hour when the car began to react strangely. He saw a grey Volvo closing up quickly behind him and as he was about to wave it past, his BMW spun sharply to the left, the brakes screeching, and then sharply to the right and back again. This is remarkably similar to what happened to the Mercedes before it struck the pillar.
Horsley wrote:
"Out of the corner of my eye I saw the grey Volvo accelerating past me at high speed. My car had now developed a mind of its own as it swung broadside and skidded down the road. With a lurch it hit the central reservation, mounted the grass verge separating the two lanes of the highway and crossed over into the opposite carriageway. I had just time to see a small car approaching from the opposite direction. I hit it sideways on with tremendous force. In a split-second the driver's horror-stricken face was visible and I heard his hoarse scream."
It's worth noting the Mercedes carrying Diana had previously been stolen. The Daily Mail notes:
It had been stolen several months before the accident and there are those who speculate that this might have been an opportunity to tamper with the car.
The general public are familiar with Prince Charles' affair with Camilla, but Diana's 1993 letter claims he wanted her dead to pursue a marriage with Tiggy Legge-Bourke (the Prince's nanny), not Camilla. In fact Camilla herself nearly died in a car accident shortly before Diana's death [7], and as the letter states: "Camilla is nothing more than a decoy."
Lets suppose the massive coincidences here are simply that, coincidences, and Diana's death was just a tragic accident. We still have two documents where Diana feared for her death via car crash. Did Charles and/or the perpetrators strike it lucky; did fate deliver a dead Diana in the exact manner they wanted? Or was Diana just nuts?