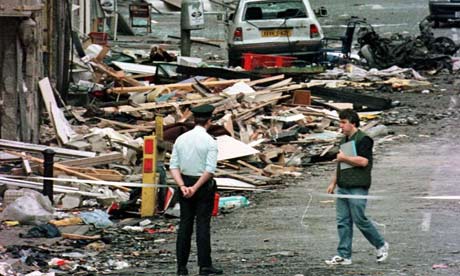 The 1998 bombing of Omagh, Northern Ireland, was the largest single terror attack in the UK at the time, killing 29 people and injuring over 200. The men convicted of the attack in 2009 are appealing the case and implicating a dodgy MI5 agent.
As reported today by The Guardian:
An MI5 agent's credibility is at the centre of an appeal by four republicans accused of being behind the Omagh bomb atrocity, a court heard today.
David Rupert infiltrated the Real IRA and provided evidence against the four men, who are appealing against a historic civil case judgment that held them liable for the massacre.
His intelligence for MI5 was used in the civil action against the Real IRA founder Michael McKevitt and three other men – Liam Campbell, Colm Murphy and Seamus Daly.
They were found to be responsible for the terrorist attack by a judge in a landmark civil case brought by victims' families at Belfast high court in June 2009. The judge recommended that they pay £1.6m in compensation to the victims' families.
All four who were named in court as leading Real IRA activists have started their appeal against that judgment in the court of appeal in Belfast.
Rupert did not give evidence at the civil trial in Belfast High Court, instead testimony was submitted that he had given against McKevitt at his 2003 criminal trial in Dublin for "directing terrorism." [1]
Michael O'Higgins, a barrister representing IRA founder McKevitt, told the court that Rupert is a "confidence trickster," whose "motivation was financial," and that his failure to give evidence in the 2009 trial meant that he couldn't be cross-examined. [2]
Indeed, this character does seem to have a dubious past. David Rupert was a double agent for the FBI and MI5, who was only recruited after getting in to serious financial trouble. The Guardian reported in 2002:
Rupert, who owed creditors $20 million (£14m) on accident claims against his Kentucky-based trucking company and in unpaid US tax, had strong financial motives for helping the FBI. He was also keen to keep his brother, who had been arrested in Florida while smuggling marijuana in watermelons, out of prison.
In 1996 Rupert used FBI funds to lease the Drowes pub and a holiday caravan park in Tullallen, Co Leitrim. He later abandoned the pub, which was subsequently burnt down in mysterious circumstances.
Something that sheds even more doubt on the case is that it's unclear if Rupert ever met the IRA's Michael McKevitt. It has emerged that when it was first suggested to Rupert that he testify against McKevitt, the American informer balked at the idea.
He only changed his mind after the FBI told him they knew of his affair with a member of the Irish Freedom Committee in Chicago. Federal agents even produced photographs of the flat in downtown Chicago where they alleged that Rupert met the woman, essentially bribing him to testify. [3]
Rupert is currently in a witness protection programme.
But investigation in to the Omagh bombing doesn't end there. Prior knowledge and collusion from the authorities has been alleged.
Over the course of several years, a series of articles in the British and Irish press reported on stories told by a Kevin Fulton, the pseudonym of a British double agent in the IRA. Fulton became a highly controversial whistleblower regarding collusion between the British Army and the IRA, something the average citizen will have a hard time understanding.
In 2001 he spoke out about the Omagh bombing, saying that "security forces didn't intercept the Real IRA's Omagh bombing team because one of the terrorists was a British double-agent whose cover would have been blown as an informer if the operation was uncovered."
But it wasn't just about covering their tracks.
He also claimed to have "phoned a warning to his RUC handlers 48 hours before the Omagh bombing that the Real IRA was planning an attack and gave details of one of the bombing team and his car registration." [4]
In 2003, senior officials in the Irish Police were "accused of ignoring a clear warning about the Omagh bomb atrocity to protect a Real IRA informer," and "the bomb was allowed to 'go through' to preserve [the informer's] role in the terrorist organization."[5]
A year prior, family members of the victims of the bombing attempted to set a meeting with Prime Minister Tony Blair regarding their concerns over the police investigations, however, Blair "angered families…by refusing to meet them." [6]
Then in 2006 it was reported that "the British security service, MI5, withheld vital anti-terrorism intelligence just months before the Omagh bombing…"[7]
The picture emerging here is far more complex and sinister than people want to accept, but a large part of the Irish troubles seem to lie with British Intelligence and double agents, turning the other cheek or adding flames to the fire rather than trying to put them out.
As reported in The Guardian:
Britain allowed "IRA informers to organise 'human bomb' attacks," a tactic which "involved forcing civilians to drive vehicles laden with explosives into army checkpoints."
The Times reported:
"MI5 arranged a weapons-buying trip to America" where detonators were obtained, "later used by terrorists to murder soldiers and police officers,"
"British intelligence co-operated with the FBI to ensure ['Fulton's] trip to New York in the 1990s went ahead without incident so that his cover would not be blown." Further, "the technology he obtained has been used in Northern Ireland and copied by terrorists in Iraq in roadside bombs that have killed British troops."
Sinn Féin may also have had close ties to British Intelligence.
In 2006 Sinn Fein's chief negotiator Martin McGuinness was accused of being a British spy by former Army intelligence officer Martin Ingram, who identified Belfast republican Freddie Scappaticci as a double agent 2 years before that. [8]
Interestingly, "Scappaticci has made millions in a taxpayer-funded resettlement package which was put in place after his cover was blown," and "has also been given a new home, a new job, a new identity and a new face, thanks to plastic surgery," as a result of help from MI5. Even the Sunday Herald, which reported this story, "was threatened with a court gagging order when MI5 was alerted that the paper planned to tell readers about Scappaticci's new life." [9]
Denis Donaldson, who was a PRIA member and later headed Sinn Féin's administration office, admitted to the BBC that he was a British agent for two decades.
Shortly afterwards, he was expelled from the party, and less than four months later he was found shot dead hours before a planned visit to Northern Ireland by Prime Minister Tony Blair. [10]
In 2008 it was revealed that the personal driver for Sinn Féin leader Gerry Adams, Roy McShane, "was an informer in the pay of MI5." On top of this, Sean O'Callaghan, a member of Sinn Fein's ruling council, also happened to be "working for the Irish police." [11]
With the convictions of the Omagh Bombers resting solely on the statement of a dubious agent, who joined the FBI to solve his financial problems and who was bribed to give testimony, and the evidence of prior knowledge within the Intelligence agencies about the attacks…the only logical way of moving forward and getting real justice would be an independent inquiry.
The infiltration and links between British intelligence and the Irish terrorists are far too numerous to brush under the carpet. And the very systems they built up are now involved in the middle-east.
In 2007, it was reported that the Force Research Unit, the group set up to aid collusion with loyalist paramilitaries, had changed its name to the Joint Support Group (JSG) and was active in Iraq since the US-UK invasion in 2003.
As reported by The Telegraph:
JSG agents "are trained to turn hardened terrorists into coalition spies using methods developed on the mean streets of Ulster during the Troubles, when the Army managed to infiltrate the IRA at almost every level. Since war broke out in Iraq in 2003, they have been responsible for running dozens of Iraqi double agents."
Interestingly, in 2003, the former head of the FRU in Northern Ireland throughout the Troubles, Brigadier Gordon Kerr, had "been sent to the Gulf to head up British spying activities in the Middle East" [12] and went on to head the JSG in Iraq after the occupation.[13]