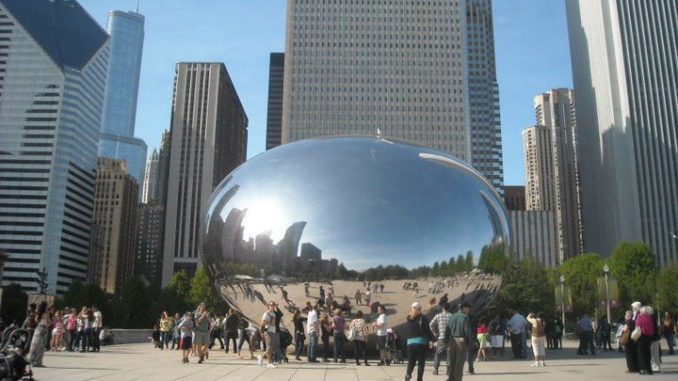 There are a whole lot of reasons to fall in love with Chicago. It's a small urban city with a big city feel where you get the best of both worlds. While you can enjoy amazing food, entertainment, and culture, it still retains a certain midwest charm with friendly people and tons of opportunities to make new friends. The following is a list of 8 popular things to do when visiting Chicago, some are famous attractions and others are lesser-known secrets you won't want to miss. 
#1. You Just Can't Miss Navy Pier
By far one of the most popular tourist attractions in Chicago, Navy Pier is a charming stretch of land that boasts stunning lake views, quality entertainment, great food, shopping, and family-friendly fun. This 3,300 waterfront property hosts over 9 million visitors each year. You can visit Chicago's Children's Museum which features three floors worth of hands-on activities for little ones. There is also the Centennial Farris Wheel, the Crystal Garden, the Chicago Shakespeare Theater, a fountain plaza, an IMAX theater and a whole lot more. Check out this complete guide to Navy Pier by CoolThingsChicago.com. 
#2. Get Yourself Some Authentic Chicago Food
A lot of cities have a particular food they are famous for but Chicago has four! A lot of repeat tourists come for the food alone and have a favorite restaurant or two that they don't want to leave without visiting. 
Chicago-Style Deep Dish Pizza – Imagin a super thick slice of pizza with a ton of melted cheese, your favorite toppings and then smothered in lots of rich chunky tomato sauce. That's right, the sauce is on top! 

Chicago-Style Popcorn – True Chicago popcorn is a mix of cheddar and caramel, a strange combination that just works perfectly for some unknown reason. 

Chicago-Style Hotdogs – You're going to want to hit

Portillo's

for the perfect Chicago Dog, an all-beef link inside a poppy-seed bun, usually topped with relish, celery salt, onions, tomatoes, sport peppers, and a great big pickle. 

Chicago- Style Italian Beef Sandwich – You can get a flavor bomb of a sandwich, roasted sirloin cooked in a well-seasoned broth, stuffed inside an Italian roll. 
#3. See The Best Attractions And Sights With Guided Tours
One of the best ways to see many historic sights and landmarks is to take a guided city tour. You can take a general trolly tour or you can embark on a special interest tour that speaks to your own personal pastimes. For example, do you love true crime? Chicago has a million stories to tell, including many mobster classics. You can take several different mob tours of famous mafia spots. If you want to see things from a distance you can take a helicopter tour of the city. If you love the history of Chicago then the World's Fair tour might be just what you are looking for. 
#4. Get Wild In Chicago With Their Amazing Zoo And Aquarium 
Attention all animal lovers, you're going to want to head to Chicago for an amazing zoo and aquarium experience. First, at the Lincoln Park Zoo, there are over 200 different animal species represented. It is one of the oldest zoos in North America, and also one of the only remaining FREE zoological parks left in the US. They recently welcomed a baby rhino to the family and they are a pioneer in animal conservation and protection. If your favorite animals lie under the sea, then you're in luck. Chicago is home to an enormous aquarium that holds 5,000,000 gallons of water and over 32,000 animals! Often cited as the most-visited aquarium in the US, the Shedd Aquarium is a delight for locals and tourists of all ages. 
#5. Art And Education – The Windy City's Best Museums 
If you love to learn new things and see fascinating art up close and personal then Chicago is a great vacation spot for you. You can spend an entire week doing nothing but visiting the various science, history and art museums found there. The Art Institute Of Chicago is one of the most well-known museums with more than 300,000 pieces of art curated and collected under one roof. For a ton of interactive fun with science, you can visit the Museum of Science and Industry in Hyde Park. For history buffs, the expansive Field Museum is a massive natural history archive with everything from dinosaur exhibits to space exploration. There are many smaller more niched-down museums to explore as well, truly something for everyone. 
#6. Catch A Show In Chicago's Theater District 
A trip to Chicago really isn't complete until you catch a play or musical in the famous theater district. The very old and distinguished theaters are home to many hit Broadway shows and for much lower prices than you're used to. Right now you can catch Hamilton, The Phantom Of The Opera, Mean Girls, Jesus Christ Superstar and many more. 
#7. Can't Miss Opportunities For Baseball Fans
We won't start a fight between White Sox and Cubs fans but no matter what part of Chicago you are in, one thing is clear, this is a baseball town. You'll want to catch a game or at least snap photos outside Wrigley Field. You can catch a really cheap game by visiting the Cubs bleacher seats at Wrigley Field. You can also see a lot of baseball history at the Relics of the old Comiskey Park. 
#8. Amazing Urban Parks In Downtown Chicago 
Chicago might look like a concrete jungle but the city planned plenty of green spaces with amazing parks and nature centers. Of course, you'll want to visit "the bean" at Millennium Park, be sure to snap a photo for Instagram while you're there. Other great parks include; Garfield Park Conservatory, Lakefront Trail, Lincoln Park Conservatory, Maggie Daley Park, and Grant Park. Kids can play on jungle gyms, parents can hold a picnic and everyone can take a nice long walk or bike ride in the great outdoor spaces in Chicago.