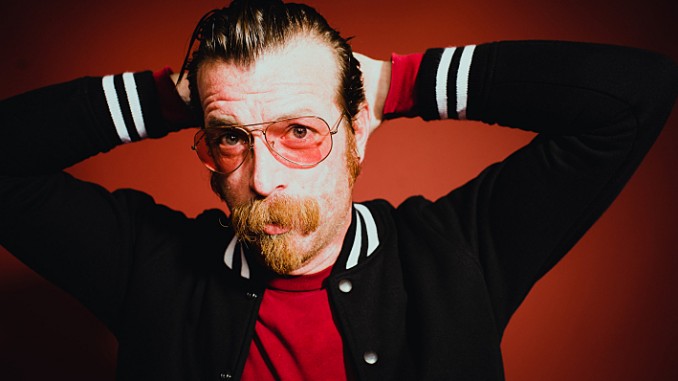 Eagles of Death Metal frontman Jesse Hughes has apologised for suggesting security had prior knowledge of the Bataclan theatre terror attack in Paris last November.
The American rocker made the curious comments during an interview with FOX Business earlier this week, after he was asked if he witnessed anything strange that night. He claimed one security guard was acting odd and wouldn't look at him, and six others had no showed the gig entirely. He insinuated that they must have known the massacre was planned.
However seemingly following a public backlash, Hughes has emphatically recanted the accusation.
"I humbly beg forgiveness from the people of France, the staff and security of the Bataclan, my fans, family, friends and anyone else hurt or offended by the absurd accusations," he said in a statement.
The owners of the the theatre have branded the comments "insane" but did not really elaborate. "Jesse Hughes spread some very grave and defamatory accusations against the Bataclan teams," they told Variety.
"A judicial investigation is undergoing. We wish to let justice proceed serenely. All the testimonies gathered to this day demonstrate the professionalism and courage of the security agents who were on the ground on November 13. Hundreds of people were saved thanks to [these agents'] intervention."
I pondered at the time whether the singer actually had any affirmative evidence for the claim. Who were the security, who exactly booked them and did they really no-show the event? Although we are none the wiser on the details, Hughes now says his comments were baseless, suggesting he was just talking out of his a**.
"My suggestions that anyone affiliated with the Bataclan played a role in the events of November 13 are unfounded and baseless — and I take full responsibility for them. They do not reflect opinions of my bandmates or anyone associated with EAGLES OF DEATH METAL. The shame is 100% mine. I've been dealing with non-stop nightmares and struggling through therapy to make sense of this tragedy and insanity. I haven't been myself since November 13. I realize there's no excuse for my words, but for what it's worth: I am sincerely sorry for having hurt, disrespected or accused anyone."
Unsurprisingly segments of the alternative media not only exaggerated the original comments, claiming that Hughes thought the attack was a full blown inside job (by who, the theatre or the state?), many sites have yet to publish his retraction.
No doubt there will be theories that he was got to and forced to retract, but it would be pretty obnoxious to run with that without first proving the original allegation.
Eagles of Death Metal were performing at Bataclan on November 13th, 2015, when terrorists swarmed the venue with kalashnikovs and other weapons, murdering 89 people. The attack was coordinated with several others across Paris, which left a total death toll of 130.
Although Turkey claims to have warned French security officials that one of the alleged attackers was a threat, and there was a general fear that ISIS could attack Europe, there is not currently anything of substance to suggest there was any specific prior knowledge within the state itself.