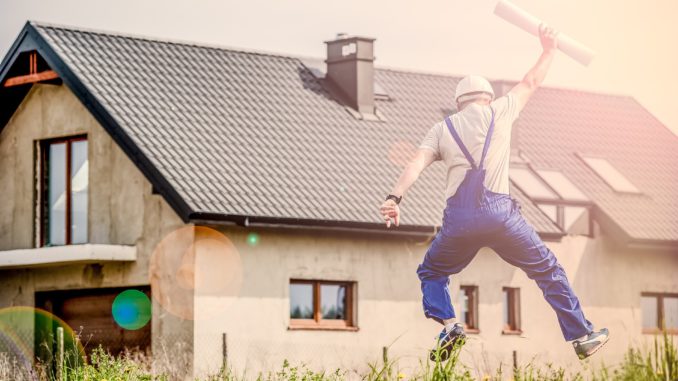 Many homeowners take regular steps to boost property value over the years. However, when you have taken most common steps and are still eager to further boost property value, you may be wondering what options remain. Rather than throw in the towel and accept things as there are, consider thinking outside of the box. There are a few other unique ways to raise the value of your home that you may have not yet considered.
1. A Unique and Appealing Colour Scheme
Repainting a home the same colour can give it a refreshed look, but you may consider changing the colour scheme for added appeal. This may include repainting the front door, the trim and all siding. Making the home stand out from the others may be essential for increasing a potential asking price, but the colour selection must be appealing as well as unique. When the colours are too unusual, some people may be dissuaded from making an offer. In some cases, you do not need to make a bold change. Instead, you may only need to adjust the colour tone by a few shades to see incredible results.
2. An Appealing Property Name
If your home does not have a descriptive name, now may be the right time to bestow a name on it. For example, rather than listing your home by its physical address, you can register with your local council to name your home the Seaside Bungalow or something similar. You may also need to notify various companies and entities about the legal name change. This includes the Land Registry, utilities service providers and others. When you name your property, you may create instant appeal and differentiation that can help you to set your home apart from others when you list your home for sale in the future.
3. Community Improvements
Your home's value will be directly impacted by the community that it is located in. It is not reasonable to expect a home to have the highest value possible if it is the nicest home in the area and if the community is rundown and undesirable. At first glance, you may not have any realistic way to clean up a local park, to update street light posts or to take other steps. However, you can work with your local council and even recruit neighbours to get involved as well. It may be helpful to obtain a position in your local council so that you have more control over the features in your community and their overall maintenance.
4. Friendly Neighbours
Just as the community that your home is located in can impact property value, your neighbours' homes also plays a role in your own property value. Being neighbourly and offering to help a neighbour complete a landscaping project or repaint the exterior of his home may do wonders for your own property value. If you approach a neighbour to help out in this way, do so tactfully for the best results. For example, you may wait for your neighbor to bring the topic up, and you may jump at the chance to lend a helping hand.
5. Widespread Change
While working within your local community to make various improvements and changes is important, you may need to think on a larger scale in some cases. For example, taxation at the national level can directly impact housing prices. Government funding for local infrastructure, law enforcement, quality schools and more may each be specific. You may be able to run for office to bring about necessary change, or you and your neighbours may become more active at eliciting change that results in a major property value improvement.
As you can see, there are numerous factors that can influence property value that you may have not previously considered. While some of these tips may be much more challenging to apply to your life, rest assured that the effort may be well-rewarded. To find the right starting point, identify the factors that may be constraining your home's value most significantly. Then, consider how these or other thoughtful ideas may be used to evoke desired change. You may need to actively work in these and other areas for many years to achieve desired results, so plan to be patient and persistent.