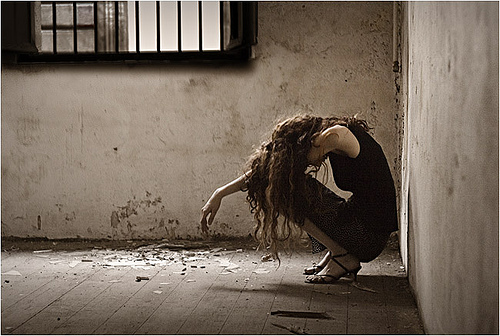 Although we'll have to wait for official confirmation on the body found at the Royal Sandringham estate, which should be released by Monday, one hypothesis (that's strictly all it is right now), is that this may be related to a rarely acknowledged Human Trafficking problem that sits right on the Queen's doorstep.
It is strongly suspected by investigators that the remains are that of 17-year-old Alisa Dmitrijeva, who disappeared from Kings Lynn last August. The area is a notorious hub for Eastern European and Chinese sex trafficking, and is also renowned for immigrant slave labour.
For example in 2004 The Sun uncovered how illegal immigrants from China were living in squalor and working for well below minimum wage. They discovered: "21 of them crammed into a squalid two bedroom flat with boarded-up windows just ten miles from the Queen's elegant Sandringham estate."
The article mentions the infamous Morecambe Bay cockle picking disaster:
He Yu Ping, an asylum seeker who was smuggled into Britain for £12,700 by the notorious Chinese Snakehead gangsters five years ago, added: "The cockle pickers were here in King's Lynn.

"They were my friends. I have cried and cried since I heard they died. I came from China on the same boat as them."
Although the details are often sketchy, which itself points to a certain level of cover-up, sex trafficking is a major problem in Norfolk & Cambridgeshire. The most high profile investigation was Operation Radium, which will only bring up one or two articles from the BBC and several others from independent journalists when using Google. The BBC article summarizes:
Operation Radium is part of a national drive against sex trafficking. It was launched in Cambridgeshire on 7 August, 2007, and police say they are grateful for the response they have had from members of the public as well as sex workers. Workers have told police…that they want to help young girls being forced into working as prostitutes by criminal gangs.
According to Cambridegshire Police, 41 people were arrested in the operation, and out of 119 premises visited only 12 victims, nine adults and three children were rescued.
The specific criminal gangs behind the sex trafficking is something kept from the general public.
T. Stokes who has offered news and articles to WideShut in the past believes that the sex trade in the Norfolk & Cambridgeshire area is predominately an Eastern European and Russian problem:
"[Former] Norfolk M.P. George Turner, allowed the Russian mafia to move in and take control of all the land farm and factory work in the area," he claims.
"More significantly to smuggle drugs and traffic women to Britain's cities."
These may not be rag-tag thugs however. Stokes continues: "The Russian mafia is extremely active in the area, and spy on the several British and U S air bases and factories."
"I have been shown a house with a sophisticated printing set up to print everything from fake utility bills to driving licenses."
Although it may be too early to jump the gun, it's a possibility that the young girl's body found on the Royal estate is a victim of a seedy underground trafficking culture that remains unknown to the majority of local residents. Still one has to wonder, why dump the body there? Is it a case of an immigrant not really knowing the area, or was this supposed to be some kind of message?