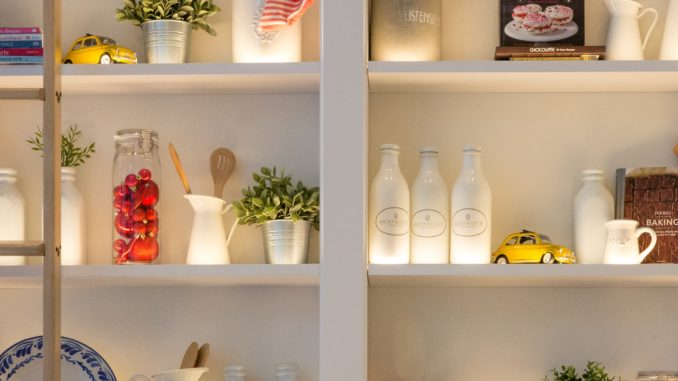 We've all heard that the kitchen is the heart and soul of a home. If that is so, at the risk of sounding a bit pretentious, we must say that the pantry is probably its lifeline. What's the point of having an immaculate kitchen if the pantry is a complete mess? No cooking enthusiast would feel at ease in a home that lacks a well-stocked and perfectly organized pantry.
Some might think there's no sense in paying too much attention to what's going on in a pantry. After all, it's usually just a small and cluttered space where you store groceries and other kitchen supplies, tucked away behind a door, so no one gets to see it anyway. But you will never understand the difference a properly managed pantry can make in your life until you have one. 
Others have probably tried to be a little more conscious about it and made an effort to tidy it up a bit, but with all those beyond-perfect pictures on Instagram it's easy to feel like you're doing it completely wrong, without understanding exactly what you're missing: the space, the items, the creativity, the magic? But guess what? There's no magic involved – although we do suspect some filters in there – only a few tricks that work just as well. Let's roll up our sleeves and see what we can do to transform your pantry and take it from chaotic to magazine material:
Matchy-matchy
Sometimes you can never have too much of a good thing and cute, transparent storage containers are on that list. Besides being practical – you don't have to play hide and seek with your groceries and guess what's inside – they also give a clean and fresh look to your pantry. There's no need to go all OCD on the containers and buy the exact same size or shape. But a bit of consistency never hurt anyone and using same-type containers will immediately elevate the aspect of your shelves. If you find them a little boring, you can personalize them by adding labels and make them upfront ostentatious. Another tip is to ditch plastic containers and think about filling a few shelves with mason jars – going green has never looked prettier. 
Unique storage items
Simple and classy is all right, but there's no reason to steer away from objects that don't match with everything else either. To spice things up a bit without using any spices – we'll get there in a moment – you can add a bit of character while still keeping everything tidy by using interesting and unique storage items. The options are unlimited here. Basically, whatever you think it's nice and would make a great storage container will do. You can never go wrong with some nice wicker baskets, for larger items or vintage crates if you want something even more stylish and sturdy. You can also use cute fabric sacks to store wine bottles or you can put fragrant herbs inside the sacks and hang them wherever you have a little extra space.
Categorize
It's pretty obvious that a well-organized pantry is about combining the practical aspects with aesthetics. Having nice looking shelves won't do you much good if you can't find anything on them. It's a good idea to put foods and items from the same category, in the same place. For example, the carefully labeled spice jars can all go on a tiered shelf where you can easily see them. The same goes for cans or bottles – each category can have a specific shelf or a crate designated, so next time you'll need something, you won't spend ages looking for the needle in the haystack.
Pull-out drawers
Not everything has to be in plain sight, but it does have to be easily accessible. Pull-out drawers are the ideal solution that saves space and helps achieve a mess-free look. We must be realistic and admit that not everything that goes in the pantry looks nice and that's why human kind created the good-old pull-out drawers. If there's anything you want to hide away, but still make sure it's in easy reach, install some drawers in your pantry. Of course, drawers can be used to store all kinds of things such as cutlery, towels, aprons or small items that stored elsewhere would probably get lost.  
Don't forget the doors
Those doors behind which some people hide away a messy pantry can be put to good use. An effective and inexpensive method to create even more storage space is to hang racks from top to bottom on the back of the door. It's your choice with what you're going to fill those racks up, but we think it's a good place to keep condiments, spices, lids or even magazines. If you don't feel like storing things on your door, another idea would be to hang a chalkboard on it and use it as an organizer. You'll surely be keener on writing to-do lists. 
Use Lazy Susans
Shelves, drawers and containers are not the only options to keep things tidy in your pantry and make the most out of your space. Unfortunately, there's always one area that inevitably turns into the Bermuda triangle in time: the corners of your pantry. People think they're great for items that they don't use as often, so they fill them with supplies and then completely forget about them. That's where Lazy Susans come in. These little storage wonders allow you to see what's hidden in the darkest corners with a simple and quick spin.
Play with colours and patterns
This is not about storage, but about looks and the way these two aspects complement each other. If you feel you've put everything in order, but your pantry still lacks life and character, try to do something about the walls. Consider painting them in a bright colour or use an interesting wallpaper pattern to add a unique finish to the space. That will get rid of all the dullness and take your creativity and organizing skills to another level.