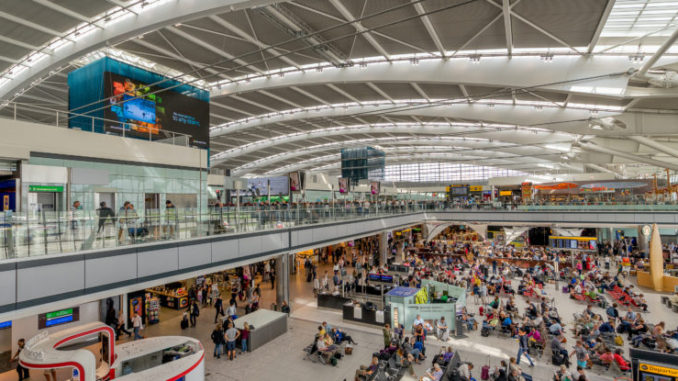 Imagine, you've booked flights to your dream destination. You've stocked up on travel goods, your bags are packed and you've planned some amazing activities. 
Then you remember that before you fly off, you must first encounter the airport, and not just any airport – Heathrow airport, a.k.a. the UK's busiest airport. 
With over 75 million people passing through its terminals each year, you're pretty much guaranteed to face crazy crowds, mile-long queues and a deafening cacophony that will make your stress levels rocket through the airport roof. 
But when the trip of a lifetime awaits, you've got no choice but to enter this madness – so here are four fantastic survival tips for Heathrow Airport. 
Head to an airport lounge 
Lounges are a quiet and comfortable space where you can escape the anarchy of the airport and enjoy complimentary drinks, snacks and newspapers, to name but a few perks.   
There are multiple lounges available at all of the airport terminals, so you'll be able to enjoy the lounge life no matter where you're flying from. 
If you don't currently have a lounge membership, you can buy one-time lounge passes for Heathrow on LoungeBuddy – prices start from just £20. 
When you've finally made it through the main terminals, you'll probably want to shop until you drop or find a place to sit and relax. However, the first thing you should do is find your airport gate. 
This way, you'll know exactly where to go when it's time to board or if you lose track of time whilst enjoying the airport amenities and face a mad dash to the gate. 
If you want to get a head start on navigating the airport, you can access terminal maps on the official airport website. 
The security queue is one of the worst parts of any airport, it's a place where you can't help but feel on edge, and at a major hub like Heathrow, you could be queueing there for a long time. 
However, if you book fast-track security on the Heathrow Airport website, you'll be laughing as you fly through security quicker than a moth is drawn to fiery flame . 
Then, with some extra time on your hands you'll be able to enjoy some retail therapy or tuck into a delicious meal at one of the airport restaurants. 
Crowded and unreliable public transport is the last thing you need before you enter the chaos that is Heathrow airport. 
You'll enjoy a much more relaxed journey, sat comfortably in your car with radio turned up. Just ensure that you plan your route in advance and keep an eye on traffic alerts. 
And if the thought of driving around in circles looking for a parking spot fills is sending your head in a spin, you can book Heathrow Airport parking on SkyParkSecure.com – it has brilliant early-bird deals.
Follow these four terrific tips and you'll be able to pass through Heathrow like a pro – with your sanity intact.  
What are your top tips for surviving Heathrow? Share them in the comments section.