Walk-in wardrobe ideas can help you to come up with comfortable and functional closets that maximise the storage space and creates bright areas for clothing and footwear storage.
Well-designed walk-in wardrobes ensure an organized closet and more decorated home.
Elegant walk-in designs are typical luxury symbols regardless of your house size. Walk-in closets are beyond simple clothing storage for they are a staple of your modern house design.
Below are modern ideas for walk-in wardrobes that will help you find an epic solution for your clothing storage in a stylish style.
Foremost, an excellent walk-in wardrobes design enables you to access the stored items easily. Therefore, L-shaped or U-shaped walk-in wardrobes are suitable designs that allow you to walk freely in the closet.
Mirrored sliding doors and stretched ceilings enable more light to reflect in the closet. This way, more beauty, and comfort are added to the storage of spaces of your wardrobe.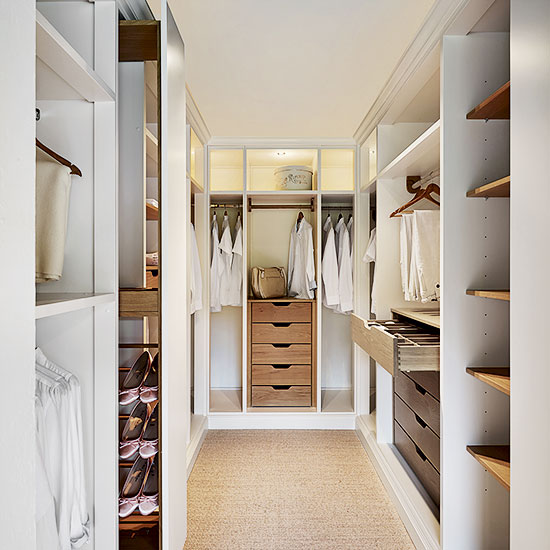 Storage shelves and cabinets placed on rollers or small stools are practically aesthetic to the onlookers. Moreover, non-carpeted floors are more pleasant and stress-free to clean.
Simple designs that involve traditional construction materials create significant impressions to the closet hence adding more beauty to your home. The complex walk-in design makes your wardrobe look complicated, and it is likely for you to encounter difficulties while locating specific clothing.
Huge windows above the walk-in closet to capture skylights create efficient light fixtures and aesthetic wardrobe designs. More light above the wardrobe enables you to locate specific clothes easily.
Soft and neutral colours are typical to interior decorating designs that have the potential of making your closet appear more attractive and bigger. For instance, impartial colours such as tan, white or grey are the best choice for wardrobes as they provide an excellent background for coloured clothing.
Crystal chandeliers create an attractive look to a closet especially because of the beautiful lightings. The walk-in closet can also incorporate a soft chair cover the small spaces left by the wardrobe design.
Walk-in wardrobes with metal shelving units are aesthetic as they create a spacious, airy pathway. Large mirrors and decorative accessories placed at the walk-in closets also create luxurious dressing rooms.
Walk-in closets that divide a bedroom into different sections are an ideal design especially to old apartments that lacks spacious wardrobes. Nonetheless, the idea of splitting your bedroom using the walk-in closet works well in long rooms that require a more pleasant design.
Fashionable ceiling lights, adjustable spotlights and contemporary fixed inside the storage drawers add comfort and functionality to your walk-in closet. An automatic system to switch on the lightings adds luxuries to your walk-in wardrobe.
Compatible shelves with unfolding drawers for cloth storage and boxes for jewellery storage, are another critical walk-in design. The shelves can be easily moved around the room and changed into different shapes.
The modern ideas for walk-in closets create a unique appearance to your house and also ensure proper organization and storage of your items.