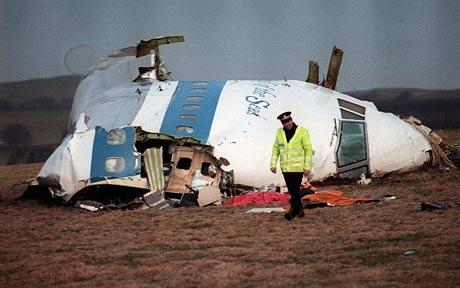 New documents shed further doubt over the evidence used to convict a Libyan man for the bombing of Pan Am Flight 103 over Lockerbie Scotland, on December 21, 1988.
Abdelbaset Ali Mohmed al-Megrahi, who was convicted in 2001 and released on bizarre "compassionate grounds" in 2009 amidst rumors of oil deals, was the only person to serve prison time for the crime.
This new evidence and a review of the case suggest he was innocent and did not get a fair trial.
Among the wreckage of the plane, which was carrying mainly US and UK passengers on route to JFK International, were small fragments of a circuit-board alleged to be part of the bomb's timer, which were found in a wooded area many miles from the immediate scene. The prosecution, using supposed CIA and FBI experts, asserted that the fragment examined was an exact match of a series of Timer's sold to the Libyan Government. However newly released documents have revealed that the fragment was actually quite different. Instead of the tin and lead compound found on the Libyan circuit-boards, the fragment contained "pure tin". It was not an exact match.
The evidence was discovered by a British Ministry of Defence scientist, but was never passed on to Megrahi's lawyers.
In response to the new findings an MOD spokesperson told Al Jazeera that the board was likely modified before use, and this explains the difference. However this was never explored in the trial or backed up by any independent analysis.
__________________________________
Evidence of a set-up:
This is not the first claim that the circuit-board evidence was fraudulent. The UK Guardian reported in 2007 that the fragment was a probable fake. This however didn't stop the mainstream media invoking Lockerbie to win public support for the disastrous campaign against Gaddafi in 2011.
Edwin Bollier the now elderly former owner of the company that created the Timers, told the Guardian:
"Two years before Lockerbie, we sold 20 MST-13 timers to the Libyan military. FBI agents and the Scottish investigators said one of those timers had been used to detonate the bomb."
He became a defence witness because of unease about the fragments he was shown. They did not match the circuit-boards his company produced.
"I was shown fragments of a brown circuit board which matched our prototype. But when the MST-13 went into production, the timers contained green boards. I knew that the timers sold to Libya had green boards."
He further claims during the trial that the evidence had been tampered with.
"…the trial was so skewed to prove Libyan involvement that the details of what I had to say was ignored. A photograph of the fragments was produced in court and I asked to see the pieces again. When they were brought to me, they were practically carbonised. They had been tampered with since I had seen them in Dumfries."
The Star Witness:
The prosecution's star witness at the trial was a man named Tony Gauci, a shop owner from Malta. He identified Megrahi as a man who had bought clothing and an umbrella from him on December 7, 1988 – remnants of which were allegedly recovered from debris at the scene.
The 2007 Scottish Criminal Case Review Commission (SCCRC) investigation, which has almost been completely ignored by the media, supported an appeal by Megrahi, citing Gauci's testimony as unreliable. It was established that the only date Megrahi could have purchased the clothes was on December 7, but they determined that there was "no reasonable basis in the trial court's judgment for its conclusion that the purchase of the items from Mary's House, took place" on that day.
The Commission's statement elaborates:
New evidence not heard at the trial concerned the date on which the Christmas lights were illuminated in the area of Sliema in which Mary's House is situated. In the Commission's view, taken together with Mr Gauci's evidence at trial and the contents of his police statements, this additional evidence indicates that the purchase of the items took place prior to 6 December 1988. In other words, it indicates that the purchase took place at a time when there was no evidence at trial that the applicant was in Malta.

…Four days prior to the identification parade at which Mr Gauci picked out [Megrahi], he saw a photograph of [him] in a magazine article linking him to the bombing. In the Commission's view evidence of Mr Gauci's exposure to this photograph in such close proximity to the parade undermines the reliability of his identification of the applicant at that time and at the trial itself.
Gauci and his brother were paid millions for their cooperation [1], or as some might interpret: were paid off for their false testimony.
Hans Köchler a UN international observer, called the whole case "a spectacular miscarriage of justice" and criticized the SCCRC for being too lenient on those in charge of bringing justice. "Regrettably, the SCCRC has not disclosed all its grounds of referral and, in its news release of 28 June, has basically concentrated on the dubious role of Maltese witness Tony Gauci – while at the same time engaging in a rather strange exercise of 'preventive exoneration' of certain people belonging to the British and/or Scottish police and judicial system whose behaviour, as pointed out in the undersigned's reports and confirmed, in the meantime, in several affidavits, has been highly questionable and may have detrimentally affected the fairness of the proceedings"[2].
Megrahi was eventually released, but under dubious circumstances.
"Compassionate Grounds":
Taking in to account this evidence it came as a big surprise when Megrahi suddenly dropped his appeal. BBC News reports that a new book by long-time Lockerbie researcher John Ashton claims the Government struck a deal with Megrahi to drop his appeal in exchange for being released on compassionate grounds due to suffering from terminal cancer. This would allow the Government to continue to save face on the wrongful conviction, but allow Megrahi to have his freedom.
He was released back to Libya in August 2009.
Oil company BP admitted that it had pushed for a Prisoner Transfer agreement prior to the compassionate release, because of "negative consequences" delaying a deal with Libya would have had on commercial interests [3].
Nevertheless the Libyans learned a cold hard lesson not to cooperate with lying imperialists. They were soon stabbed in the back when NATO obliterated the country in an unjust bombing campaign, and David Cameron told the Al-Qaeda linked rebels to lock Megrahi back up if they found him [4].
The whereabouts of Megrahi are no longer known, but it was last reported that he was in a coma prior to the NATO campaign [5].
__________________________________
So Who Did lockerbie?
According to victim family member Martin Cadman, during a President's Commission on Aviation Security and Terrorism (PCAST) review, one of President Bush Sr's staff told him: "Your government and ours know exactly what happened but they are never going to tell."[6]
So the million dollar question remains, if Megrahi was innocent, who bombed Pan Am Flight 103?
In a long forgotten 1995 article in The Guardian, several alternative narratives and pieces of information are briefly discussed, but it's difficult to make any final conclusion.
A
is for Africa, South
Several pieces of evidence (see H and W) suggest that the authorities knew in advance that the Boeing 747 which blew up over Lockerbie in southern Scotland on December 21 1988 was in danger. The German newspaper Die Zeit claimed that the South African foreign minister, Pik Botha, intended to fly on Pan Am 103 but had been warned off. Mr Botha flew on an earlier flight, Pan Am 101, which, unlike flight 103, had special security checks at Heathrow. No one has been able to definitively confirm or refute the Die Zeit story.

B
is for bomb-maker
The German anti-terror campaign Operation Autumn Leaves (see J, O and P) led to the arrest of bomb-maker Marwan Khreesat weeks before the Lockerbie disaster. Khreesat was released after a few days because of a lack of evidence. In April 1989 further German police raids resulted in the discovery of two more bombs designed by Khreesat specifically to blow up aircraft. Did he make the bomb which was placed on feeder flight Pan Am 103A before it left Frankfurt for Heathrow?

C
is for coffin
Two coach-loads of officials arrived at the disaster scene in the day after the crash. Many were plain-clothed Americans with no obvious affiliation. Among their baggage was a single coffin for which no explanation has ever been given. Labour MP Tam Dalyell later produced evidence indicating that the Americans had "stolen" a body from the wreckage. A local doctor identified and labelled 59 bodies and was then puzzled to find that the Americans had relabelled and tagged only 58 in the area where he had been working.

D
is for drugs
Lockerbie farmer Jim Wilson found a suitcase full of cellophane packets containing white powder among the debris in his fields. The suitcase was taken away, no explanation was given, and the authorities continued to insist that no drugs (apart from a small quantity of cannabis) had been found on the plane. But it was later discovered that the name Mr Wilson saw on the suitcase did not correspond with any of the names on the Pan Am 103 passenger list.

E
is for the Express
Ten days after the Lockerbie disaster, the Daily Express devoted its front page to exposing a Lebanese American called Khaled Jafaar whom it named as the "bomb carrier". The Express's sources were "the FBI and Scotland Yard". The Interfor report (see I) also named Khaled Jafaar as the bomb carrier.

G
is for Garrick
Paul Channon, British Secretary of State for Transport, lunched five journalists at the Garrick Club three months after Lockerbie and told them, off-the-record, that the Lockerbie killers had been identified and would soon be arrested. Yet the two Libyans who came to be the prime suspects were not charged until November 1991. It seems likely that at that time Mr Channon was confident that the Lockerbie bomb was the work of the Palestinians (see P).

H
is for Helsinki
Sixteen days before the disaster, a man rang the US embassy in Helsinki, Finland, and warned of a bomb aboard a Pan Am aircraft flying from Frankfurt to the US. The 1990 US President's Commission report on aviation security said that "thousands of US government employees saw the Helsinki threat". Not a single US worker at the Moscow embassy took flight Pan Am 103 from Frankfurt, a standard and popular route home for Christmas. But the British Department of Transport had told Pan Am in December that British intelligence dismissed the threat as "not real".

I
is for Interfor
A report by Interfor, a New York corporate investigative company hired by Pan Am, suggested that a Palestinian gang (see P) had got the bomb on to the airliner at Frankfurt by exploiting a US intelligence deal (see U). In a bid to free American hostages in Beirut, American intelligence agents had apparently struck a deal with Syrian drug smugglers: in exchange for hostage information, the agents smoothed the Lebanon-US drugs route by relaxing security restrictions and allowing drug luggage to sail through customs. The terrorist gang simply switched the drug luggage for a bomb.

J
is for Ahmed Jibril
Ahmed Jibril was the leader of the Popular Front for the Liberation of Palestine – General Command (PFLP-GC) (see P). He enjoyed the protection of the Syrian government. Intelligence agents reported that Jibril had been assigned by a furious Iran to avenge the shooting down of an Iranian airbus by a US warship in 1988 (which killed 290 people). The leader of Jibril's terrorist gang, Hafez Dalkamoni, was one of the Palestinians arrested in Operation Autumn Leaves (see O).

K
is for Kuwait
In 1990 Kuwait was invaded by Saddam Hussein. Anglo-American attitudes to the Middle East were transformed. Paul Foot and John Ashton argue that theories about Lockerbie are inextricably linked to this changing political situation.

In 1989 intelligence-based evidence fitted snugly with US and British foreign policy in the Middle East. Both countries had severed relations with Syria, and the Iraq-Iran war ended in 1988 with America and Britain continuing to be hostile to Iran and supportive of Iraq. The US and British governments were content with the prime Lockerbie suspects: a Palestinian gang (see P), backed by Syria and Iran.

But in 1990, the impending Anglo-American war against Iraq necessitated neutralising Iran and winning the support of Syria. Britain's diplomatic relations with Syria were duly restored in November 1990 and the Gulf war commenced in 1991. Sure enough, the credibility of intelligence theories about the Lockerbie bombing being masterminded by the Iran- and Syria-backed Palestinian gang was soon dismantled.

M
is for the Maltese connection
A series of Sunday Times investigative pieces reported that the Lockerbie bomb had first been put on a plane in Malta. The bombing had been carried out by the Palestinian group (see P), after a gang member, Abu Talb, visited Malta. He was identified by a Maltese boutique owner as the man who bought clothes later found in the bomb suitcase.

A bag which ended up on Pan Am 103 was identified by a baggage handler as coming from an Air Malta flight. When a Granada TV documentary repeated the allegations, Air Malta sued Granada for libel. A hitherto unpublished document from Air Malta's lawyers demonstrated that there were no bags on the flight which went on to Pan Am 103 or 103A. Granada settled out of court.

O
is for Operation Autumn Leaves
Five weeks before the Palestinian warning (see I) was received, a German anti-terrorism campaign, Operation Autumn Leaves, arrested a "team of Palestinians not associated with the PLO" in possession of a bomb in a cassette recorder (see T) strikingly similar to the Lockerbie bomb.

These Palestinians, including Hafez Dalkamoni (see J) and Marwan Khreesat (see B) had been arrested outside a flat in Neuss – two hours' drive from Frankfurt, from whose airport Pan Am 103's feeder flight had originated. They were released after five days because there was not enough evidence against them.

P
is for Palestinians
Operation Autumn Leaves led to the arrest of a gang associated with a splinter group of the Palestinian movement the Popular Front for the Liberation of Palestine – General Command (PFLP-GC). Was Pan Am 103 blown up by a Palestinian gang, protected by Syria and paid for by Iran?

Q
is for Queen's English
The official air accident report concludes: "The detonation of an improvised explosive device led directly to the destruction of the aircraft". If it was a bomb why wasn't it called a bomb in plain English?

R
is for red tarpaulin
On the night of the disaster teams of rescue volunteers scouring the area discovered a large object under a red tarpaulin. As they approached it, they were warned off by gunmen in the doorway of a hovering helicopter. A local farmer, Innes Graham, was also warned by US investigators to stay away from a small wooded area a few miles east of Lockerbie.

T
is for Toshiba
The German anti-terror campaign Operation Autumn Leaves (see O) discovered a Toshiba cassette recorder packed with semtex. Pieces of a similar model of recorder had been found in the wreckage at Lockerbie.

U
is for US intelligence
There have been several claims that the bomb was planted on Pan Am 103 by a crack team of US intelligence agents. A Radio Forth journalist reported the claim and, within an hour, was threatened with prosecution or, bizarrely, invited to disclose his source to the Prime Minister.

The Interfor report (see I) also alleged that Major Charles McKee, the head of the US intelligence team, who was travelling on the plane, was shocked by his colleagues' deal with Syrian drug smugglers and was returning on Pan Am 103 to report them. The inference was obvious – Pan Am 103 was sacrificed by the intelligence community to get rid of Major McKee. But the Interfor report was greeted with widespread scepticism.

W
is for warning
Three days before the Helsinki threat (see H), an intelligence source in the US state department's office of diplomatic security warned that a team of Palestinians, not associated with the PLO, was targeting Pan Am airline and US military bases in Europe. The comment attached to the message read: "We cannot refute or confirm this".

X
is for xenophobia
In 1989 Anglo-American intelligence services and politicians widely blamed the Lockerbie bomb on a Palestinian terror group (see P), backed by Syria and Iran. In 1990, (see K) Iraq became the Anglo-American Arab enemy number one in the run-up to the Gulf war; Iran became neutral and Syrian troops joined the Allied forces. Only Libya remained adamantly aligned with Iraq. Suddenly, coincidentally, the Lockerbie bomb was blamed on the Libyans.
In continuation of the D for drugs theory self professed whistle-blower Susan Lindauer wrote the following account for veterans Today:
In December 1988, infuriated Defense Intelligence agents issued a formal protest, exposing CIA complicity in Middle East heroin trafficking. When teams from both agencies got summoned back to Washington to attend an internal hearing, they boarded Pan Am 103. A wing of militant Hezbollah led by Ahmed Jibril, his nephew Abu Elias, Abu Talb and Abu Nidal took out both teams in order to protect their lucrative cartel.

Classified Defense Intelligence records show that Jibril and Talb had been toying with a conspiracy to bomb a U.S. airplane during the 1988 Christmas holidays anyway. They planned to bomb a U.S. airliner in revenge for the U.S.S. Vincennes, which shot down an Iranian commercial airliner loaded with Hajiis returning from Mecca in July, 1988. However the Defense Intelligence threat to expose their heroin network put the bombing plan into action. Islamic Jihad's ability to discover actionable intelligence on the flight schedules would definitely confirm that somebody at CIA was operating as a double agent, keeping Islamic Jihad a step ahead of the rescue efforts.

That's the dirty truth about Lockerbie. It ain't nothing like you've been told.
Another area of speculation is that Western intelligence agencies may have welcomed the attack as a pretext to take out Gaddafi. Former British agent Annie Machon notes in her book "Spies Lies and Whistleblowers" that in the 90s MI6 paid an Al Qaeda terrorist to assassinate Gaddafi, which resulted in the failed attack on his motorcade in 1996 [7]. It's clear there has always been an agenda to get rid of him.
In a similar vein the 1984 shooting of police lady Yvonne Joyce Fletcher outside the Libya Embassy in London, was officially blamed on pro-Gaddafi Libyans within the embassy itself. However the case was re-examined in a rare Channel 4 piece, concluding that the shots most likely came from an adjacent building occupied by the British Security Services. They suggest a Libyan opposition group with ties to the CIA and Regan administration carried out the attack with MI5's blessing and blamed it on Gaddafi's supporters in the embassy. A classic false flag.