Why Is Radovan Karadzic Being Tried For War Crimes Against Muslims?

The title of this article is not meant to by taken at face value. I don't advocate the massacring of Muslims or waging war against any group of people. But that's the point. Former Bosnian Serb leader Radovan Karadzic is currently being tried for war crimes against the Muslim people. And this isn't a Tony Blair show trial. He is charged by the UN for attempting to carry out ethnic cleansing and genocide.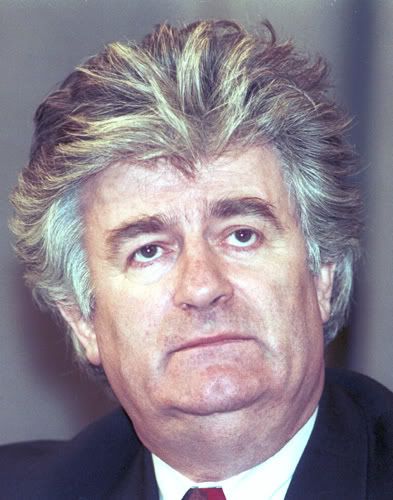 He claims the war was just and was opposed to extreme Islamic goals. Is this not partly the reason why Britain and the US has been at war in Iraq and Afghanistan? Because of extreme Muslims and terrorists?
My point is to highlight the hypocrisy of war trials. What makes Radovan Karadzic any different from Tony Blair and George Bush ordering the deaths of millions of innocent Iraqis and Afghans?
What is particularly ironic about this situation is that under Tony Blair the security services and mi6 allowed Omar Bakri's Al-Muhajiroun organization to radicalize and recruit British Muslims and send them out to Kosovo to support the war effort against Karadzic's Serbians.[1][2][3]Then just a few years later the same group of extremists and their associates were linked to the 9/11 attacks and the 7/7 London Bombings – many were still intelligence assets at the time of these events, and were even aided and abetted by Britain.[1]
It's even more ironic that Anjem Choudary, leader of Islam4UK was born out of the Al-Muhajiroun network.[1] It seems Britain's support of Muslim radicals has well and truly bit us on the ass.
Karadzic claims that there was a "conspiracy core" of fundamentalists trying to set up an Islamic nation.[1] The same thing Anjem Choudary is calling for in his strangely well covered and publicized PR campaign in Britain.
It seems geo-politics and war really is a "grand chessboard" being manipulated when it suits certain agendas. Grand Chessboard is the title of a book by notorious Muslim Extremist supporter Zbigniew Brzezinski, who lead the US in supporting Bin Laden and co in the fight against the Soviets; which again seemed to bite the West on the ass come 9/11 – if in fact Bin Laden really was the mastermind. After all no evidence has ever been brought forward in a court of law and he is not on the FBI's most wanted list.
While Karadzic does not appear to be a nice chap, neither are the people trying him for war crimes.
Category: War and Terrorism, World News