Turkey and NATO Playing Propaganda Games Against Syria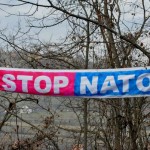 Despite playing an integral part in a secret proxy war against Syria, Turkey is using the biased Western media to paint itself as a victim of Syrian aggression, thus further building a propaganda fueled pretext for NATO countries to intervene in the conflict more openly.
Turkey is actually the headquarters of a CIA/NATO/British Intelligence coalition, that have been providing weapons and foreign mercenaries to aid the so called opposition "activists" against Assad, and to cause a general state of chaos, so the West can later exert its agenda over the region. As noted by former CIA officer Philip Giraldi, since at least January [1]: "Unmarked NATO warplanes [have been] arriving at Turkish military bases close to Iskenderum on the Syrian border, delivering weapons from the late Muammar Gaddafi's arsenals as well as volunteers from the Libyan Transitional National Council who are experienced in pitting local volunteers against trained soldiers, a skill they acquired confronting Gaddafi's army."
By February Israeli based independent intelligence group DEBKAfile reported that British secret intelligence officials and military commanders were already on the ground in Syria [2]: "they manage rebel communications lines and relay their requests for arms, ammo, fighters and logistical aid to outside suppliers, mostly in Turkey," the report states.
The Western mainstream media who cling on to every word of the deeply biased and dubiously ran Syrian Observatory of Human Rights, are completely overlooking the West's role in fomenting the violence in Syria. They're allowing UN and NATO leaders to grandstand about the violence and to teeter-totter on how to get involved, when they are already involved and breaking they're own international law!
It's propaganda at its best. Within the false paradigm that the media have allowed to flourish, NATO and Turkish officials can condemn Syria for shooting down a Turkish F4 Phantom jet and the public believe it is Assad who is the aggressor, when all along it is NATO and Turkey waging war on Syria, while hiding behind the opposition movement.
Recep Tayyip Erdoğan, Turkey's prime minister, has warned Syria that they might retaliate for the incident, and will militarily respond to any encroachment on their border, despite encroaching on Syria's border for months.
"Any military element that approaches the Turkish border from Syria by posing a security risk and danger will be regarded as a threat and treated as a military target," Erdoğan said [3].
Turkey claim the jet had unintentionally strayed into Syrian airspace while on patrol but had been chased back and shot down over international waters. Syria claims the whole incident took place in Syrian territory.
If you found this information valuable, please help promote it on Reddit by clicking the "like arrow": http://www.reddit.com/r/conspiracy/comments/vmnb0/turkey_and_nato_playing_propaganda_games_against/
Category: War and Terrorism, World News