Philip Hammond Encourages Corporations To Pillage Libyan Booty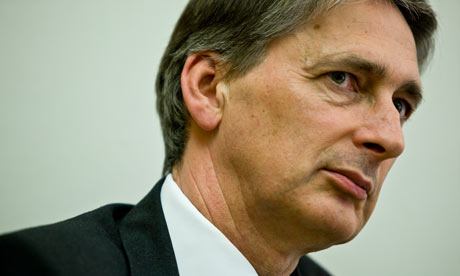 In a sickening and brazen message that highlights the extent of corruption at the helm of the Western invasion of Libya, new Defence Secretary Philip Hammond has told British corporations to "pack their suitcases", because reconstruction contracts and business deals are now up for the taking.
"Libya is a relatively wealthy country with oil reserves, and I expect there will be opportunities for British and other companies to get involved in the reconstruction of Libya," he told the BBC in an interview.
"I would expect British companies, even British sales directors, [to be] packing their suitcases and looking to get out to Libya and take part in the reconstruction of that country as soon as they can," said Hammond, who replaced the Zionist corrupted Liam Fox as defence secretary last week.
He claimed the bombing campaign that murdered countless civilians, who they pledged to protect was "hugely successful" and that Britain now needed "to support the Libyans to turn the liberation of their country into a successful stabilisation so that Libya can be a beacon of prosperity and democracy in north Africa going forward." (I guess destroying a country and then making money rebuilding it is now an honorable thing).
His statement itself is a misnomer. Libya already was a beacon of prosperity in North Africa. In fact if the West hadn't stormed in under the guise of a "humanitarian intervention" it would be even more prosperous, due to Gaddafi's Gold backed Dinar currency, which would have been out of the grip of the Western banking cartels that thousands of people are currently protesting across the world.
Every British citizen should be questioning who's really running our country when our Prime Minster can call the sight of nut job Al Qaeda-affiliated militants parading Gaddafi's dead body around while firing guns in the air, a successful mission. There's something called justice, criminals are supposed to be tried in a court of law not assassinated.
We go back to one of the pivotal questions that we ask here on the What Is The New World Order? article.
could it be that the financial & corporate elite and the politically disingenuous, instead of being opportunists riding on the back of the "vales-based" political ideology of global governance, are actually the ones driving the ideology, and using political rhetoric about world peace, saving the planet and spreading freedom, to increase their power and to suit their financial and business interests, which obviously benefit from a further globalized and centralized world?
I make the charge that the whole reason we invaded Libya was to benefit transnational corporations, the financial elite, and to expand the remit of the New World Order.
Mainstream Coverage @ The Guardian
Category: Economy, War and Terrorism, World News