Lord Blackheath Exposes Possible Monumental Financial Fraud

UPDATE: It would appear at least in part, that Lord Blackheath has fallen for an old scam that's already documented on the New York Federal Reserve's website. The name Blackheath brings up, Yohannes Riyadi, is listed in a scam from 2007.
The Federal Reserve is aware of a fraudulent scam involving individuals using the names Yohannes Riyadi and/or Wilfredo Saurin, or persons claiming to be representatives of these two men. In a typical version of this scam, Mr. Riyadi and/or his delegates falsely claim that they have on deposit with the Federal Reserve Bank of New York several U.S. Treasury Checks issued to Mr. Riyadi amounting to billions of dollars.

The Federal Reserve Bank of New York has been contacted by several brokers and financial institutions worldwide inquiring about the validity of this fraudulent account documentation, which is being offered as collateral for lines of credit or other types of asset based financing. The fraudulent scheme includes multiple documents which purport to have the signatures of various Federal Reserve officials, including Chairman Ben Bernanke.

In some instances, individuals involved in this fraudulent scheme claim to have met with Federal Reserve officials and claim to have verified that the alleged account is in order. We have also learned that the fraud may include the purchase of certain documents by the introducing brokers.

If you have information regarding this fraud please contact either Robert Amenta, Special Investigator at the Federal Reserve Bank of New York, or Erik Rosenblatt, Senior Special Agent at the Department of Homeland Security, Immigration and Customs Enforcement.
It's possible that some of Lord Blackheath's documentation is legitimate, but until it's properly verified there's no way of telling.
________________________________________
Lord James Blackheath claims to have gathered documentation of a possible monumental financial fraud involving HSBC, RBS, the American Federal Reserve, JP Morgan Chase, the IMF and a man going by the name of Yohannes Riyadi.
Speaking to a handful of his peers in the House of Lords on February 16th, Blackheath called for an investigation in to three alleged financial transactions of $5 Trillion each, with fraudulent backing of 750,000 metric tonnes of gold, an impossibility since that amount of gold has never been mined.
The purported operation began in April and May 2009, with three transfers of $5 trillion to UK bank HSBC. This was then passed on to the Royal Bank of Scotland, which taxpayers were forced to bailout only a few months later following the financial collapse.
"I have been trying to sort out the sequence by which this money has been created and from where it has come from for a long time," says the Lord.
"It starts off apparently, as the property of a man called Yohannes Riyadi, who has some claim to be the richest man in the world. Or would do if all the money that was owed to him was paid. I have seen accounts of his showing he owns $36 trillion, which is a ridiculous sum of money. However this would be consistent with the dynasty from which he comes, effectively the emperors of Indo-China in times gone by. But a lot of that alleged money has been taken away from him with his consent by the American treasury over the years for the specific purpose of helping to support the dollar," or so the story goes.
Blackheath cites a document dated February 2006, which allegedly shows the minutes of a meeting where then Federal Reserve Chairman Alan Greenspan, and then President of the New York Fed Timothy Geithner, as well as representatives of the International Monetary Fund, signed off for the New York Fed to give Mr. Riyadi a token cash payment of $500 million, to buy out Bonds held by Riyadi. 750,000 metric tonnes of gold are allegedly backing these bonds, totaling $15 trillion. This of course is ludicrous as nowhere near that amount of gold has ever been mined.
There is clearly a monumental fraud going on here. The gold clearly doesn't exist, the bonds therefore are clearly not real. It's easy to pass this off as a complete fabrication. However according to Blackheath the $5 trillion transactions, totaling $15 trillion, do actually appear on the books of HSBC and RBS!
"Why would any bank want to sign 5 trillion dollars worth, 15 trillion total, of receipts if the money didn't exist?" He asks his peers.
Perhaps to line their own pockets?
Blackheath continues:
"The money was said to have come, first of all from the Riyadi account, to the Federal Reserve Bank of New York, and from the Federal Reserve Bank of New York through JPMorgan Chase and then to the Banks in London."
Lord Blackheath then noted that the Federal Reserve audit review from July of 2010 lists 20 banks from all over the world, who have a total of $16.115 trillion in outstanding loans with 0% interest. This would seem to correlate with the mysterious $15 trillion.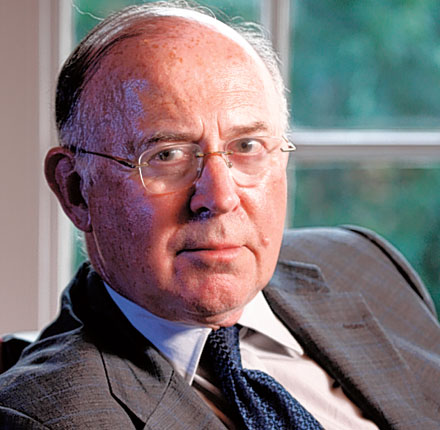 "I think there are three possible conclusions that may come from it," says Blackheath.
1) There has been a massive piece of money laundering committed by a major government which ought to know better and that it has effectively undermined the integrity of the British bank the Royal Bank of Scotland, in doing so.
2) The Federal Reserve has gone rouge.
3) This is an extraordinarily elaborate fraud which has not been carried out but which has been prepared in order to provide a threat to one government or more if they don't pay them off.
It should be noted that none of Blackheath's documentation has been independently verified and it's difficult to determine what (if anything) has taken place. He is calling for an official investigation to see exactly where the fraud lies. That being said if fraud has taken place, anything official may turn out to be a whitewash anyway.
Blackheath first came to public attention when he spoke of a mysterious Foundation X who was said to be looking to buy off Britain's national debt.
It's possible he's a crazy fantasist or simply falling for elaborate hoaxes. Yohannes Riyadi does not appear to exist under that name and the $16 trillion of Fed bailouts are widely recognized as simply the Fed creating money out of thin air like it usually does. It's also possible he's being played for ulterior motives by people that do actually have some kind of influence. Either way, with what's at stake his claims shouldn't simply be ignored, and a proper investigation, even just to rule him deluded would be a good idea.
Category: Economy