IMF Chief Christine Lagarde Calls For Further Loss of National Sovereignty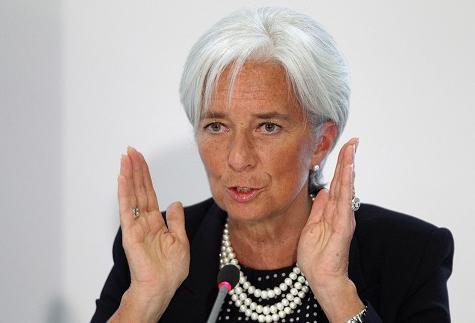 International Monetary Fund Managing Director, Christine Lagarde, has called for Eurozone countries to hand over more of their sovereignty to the European Union Superstate and the international banking system. In order to save the centralized bureaucracy from complete collapse the former lawyer wants bailout decisions to bypass Governments, with money going directly to failed banks [1].
After yesterday's IMF-led conference in Luxembourg, finance minsters of countries using the Euro currency were informed that so called emergency bailout packages should be a process between the unelected EU suits and the private banks themselves, rather than the elected leaders of countries that are in crisis. She suggested that the current system is causing a "negative feedback loop" where Governments go directly in to national debt to bail out banks that operate in their countries.
While this is technically true the idea that some debt burden will be lifted by cutting out the middle man is nothing more than an accounting mirage and fails to address the legitimacy of the debt itself. Under the EU system "we're all in this together". If for example the Spanish Government didn't bail out Bankia earlier this year, and instead the bank was given a direct cash injection from the EU emergency fund, the debt burden on taxpayers within the Eurozone isn't lifted, it's just spread around between member states. It's a control mechanism that keeps power centralized under the EU and the international bankers. EU countries struggling with their own national debt problem caused by borrowing too much from bankers, pledge money they've borrowed from bankers to bail out banks in countries that are struggling to pay back bankers they've borrowed from. Which ever way you slice it, bankers are the ones sitting atop the system.
The collapse of the Euro was caused by a combination of fraudulent investment banking practises, and in order to save it, power is being centralized further so money can be given directly to reckless and fraudulent banks.
It's tantamount to me loaning you £100, only for you to realize that the £100 was fraudulent and was actually worth just £10. Instead of me going bust, your mother swoops in and takes away your financial control to tell me to stick it, and gives me £100 back that she now makes you owe her. But the only way you can get £100 to pay her, is to borrow another £100 from me or my equally fraudulent friend. How do you then pay that £100 back? You sell your children's food and clothes to my other friend and make them pay you a 5p tax on their pocket money. My fraud is long forgotten and I end up with most of the money. Your mother's centralized control over you, gives me centralized control over everyone.
While this is rather simplistic, the children represent the average citizen. They have been screwed over by you the Government, and forced in to austerity so your mother, the EU can collude with the international Bankers, Me. Freedom is not part of the system's design.
Lagarde's plan also means Governments may not be able to say no to bailing out banks, even if they deem their practices to be fraudulent. Iceland, a lone wolf in the world economy, allowed its banks to default and are now seeing steady recovery.
If you found this information valuable, please help promote it on Reddit by clicking the "like arrow": http://www.reddit.com/r/conspiracy/comments/vfk6b/imf_chief_christine_lagarde_calls_for_further/
Category: Economy, EU Superstate