Al Qaeda Using Old Friends At CIA In Facebook Jihad
The Sun Newspaper published a headline today entitled Al-Qaeda's Cyber Jihad on Facebook, but just like Al Qaeda's roots can be traced back to the CIA supported Jihad of the Soviet/Afghan war, somebody should inform the terrorists that Facebook is also a CIA operation. Instead of supplying guns and training to the Mujahideen, in 2011 they're ironically supplying them with an Internet platform.
According to the report: "Use of social networking sites and video sharing is now commonplace. There have been a number of attempts by terrorist and extremist groups to 'invade' Facebook."
But what is Facebook? Well on one level it's a social networking website to enjoy with friends, but on another level it's an intrusive data mining business that takes your personal information and sells it on. On an even deeper level it's a Big Brother system caught in the spider web of the CIA and US Government.
Facebook's early funding of $12.7 million was invested by venture capitalists Accel Partners (Accel-KKR) [1]. James Breyer, Accel's manager (now on the board of Facebook itself) used to be the chairman of the National Venture Capital Association, along with board member Gilman Louie. In turn Louie was also CEO of In-Q-Tel, a venture capital firm founded by the CIA in 1999, which "invests in high-tech companies for the sole purpose of keeping the CIA with the latest in information technology in support of United States intelligence capability. One of the company's key areas of expertise are in 'data mining technologies', " [2] which is exactly what Facebook is. But why would the CIA be interested in data mining?
To keep tabs on everybody.
Dr Anita Jones, former director of Defence Research and Engineering for the US Department of Defence [3], also served on the In-Q-Tel's board, and was adviser to the Secretary of Defence; overseeing the Defence Advanced Research Projects Agency (DARPA) [4], which is responsible for high-tech, high-end development.
DARPA's Information Awareness Office has the following stated goal:
"…gather and store the personal information of everyone in the United States, including personal e-mails, social networks, credit card records, phone calls, medical records, and numerous other sources including, without any requirement for a search warrant. This information would then be analyzed to look for suspicious activities, connections between individuals, and "threats". Additionally, the program included funding for biometric surveillance technologies that could identify and track individuals using surveillance cameras, and other methods." [5]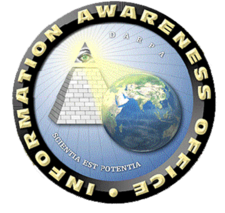 Here's what founder Mark Zuckerberg had to say during the very early stages of Facebook:
ZUCK: yea so if you ever need info about anyone at harvard
ZUCK: just ask
ZUCK: i have over 4000 emails, pictures, addresses, sns
FRIEND: what!? how'd you manage that one?
ZUCK: people just submitted it
ZUCK: i don't know why
ZUCK: they "trust me"
ZUCK: dumb fucks
[5]
So in light of these connections, the CIA/Defense Department's stated goal of acquiring as much personal data as possible, and Mark Zuckerberg's colorful language, do you trust Facebook?
According to the Sun, the CIA's old Al Qaeda pals seem to trust it.
Category: Big Brother and Policing, Science & Technology, War and Terrorism